Two Communities at The Palms of Largo Receive Bronze in McKnight's Excellence in Technology Awards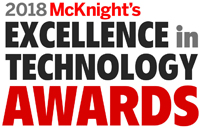 LARGO, Fla. (November 12, 2018) – Regal Palms and Royal Palms at The Palms of Largo campus, located in Largo, Fla., are proud to announce that they have been awarded the Bronze Award in the Marketing category of the Senior Living track of the 2018 McKnight's Excellence in Technology Awards.
The communities developed a pilot program utilizing services from Rendever, Inc., a company that specializes in creating virtual reality for older adults by using algorithms that convert 360 panoramic photos, to drive connectedness and reduce loneliness. Residents participated every week as a type of 'new experience club,' which spurred conversations, drew in family members and helped staff members learn more about the residents.
"I am excited that we are able to provide these new programs to residents and staff." said Katie Westberg, National Director of Life Enrichment. "The outcomes have been very positive! It's certainly heightened the sense of community among those who participate. They're getting to know each other on a new level by "traveling" to new or familiar places together."
To qualify for the 2018 McKnight's Excellence in Technology Award, organizations must successfully harness technology in their programs to improve resident quality of life. Additional details and a complete list of winners can be found on McKnightsSeniorLiving.com.
---